Every small donation helps us a lot!
http://www.betterplace.org/p24102
———————————————————————–
Bag Mohajer and City Plaza Tour
Dear friends, next week we will be in:
Dienstag, 22.11. um 19.00 Uhr Frankfurt/Main
Cafe ExZess, Leipziger Straße 91, Theaterhalle
Mittwoch, 23.11. um 20.00 Uhr Freiburg
Theater, Bertholdstraße 46, Winterer Foyer
Donnerstag, 24.11. um 19.30 Uhr Bern
Casa dÌtalia, Bühlstraße 57
Freitag, 25.11. um 19.30 Uhr Zürich
Autonome Schule, Sihlquai 125
Samstag, 26.11. um 18.00 Uhr Augsburg
Grandhotel Cosmopolis, Springergässchen 5
Sonntag 27.11. um 18.00 Uhr München
Bellevue di Monaco, Müllerstraße 2
we will accompany our friends from the Refugee Accommodation and Solidarity Space City Plaza from Athens.
for more infos check our flyer below
flyer-City-Plaza-201611-screen
————————————————————————————-
for our Bag Mohajer Project and "journey back to the border"
18.08.16 at Kaffee Burger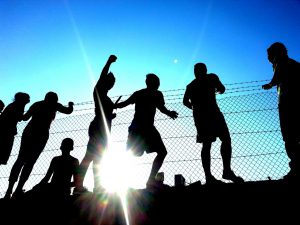 Bag Mohajer will present the new arrived bags from athens 🙂
———————————————————————
Dear friends,
2015 was a very eventful year for both our project, and refuge and asylum in Europe. Thanks to your financial support, Bag Mohajer is making more and more steps towards running sustainably. This would not have been possible without you!
For Bag Mohajer, 2015 in many ways set important prerequisites for continuity and sustainability. After some difficulties, we managed to find a beautiful space for our sewing workshop in Athens' Exarcheia neighborhood. Together with the young tailors, we bought used industrial sewing machines and equipment and set up the place with some basic furniture. Shortly after, we started making many beautiful bags and gave them away at markets in return for donations. And as always, the refugee tailors receive 100 per cent of the proceeds. Within a short period of time, our small sewing workshop transformed into a space of creative work, exchange of experience and retreat.
Together with the tailors, we travelled to the island of Lesbos twice in order to collect almost 500 kilograms of rubber dinghies and lifejackets – the materials from which our bags are made of.
When we travelled to Lesbos in August, hundreds (and sometimes even thousands) of people arrived on the island in life-threatening circumstances with rubber dinghies. In 2015 alone, more than one million people fled wars and violent conflicts in such countries as Afghanistan, Iraq, Somalia or Syria, trying to reach Europe through Greece and Italy. As there still are no legal escape routes to Europe, people are forced into taking the perilous route across the Mediterranean. And the journey has become even more dangerous in winter. According to UNHCR, in 2015 at least 3,735 people died trying to cross the Mediterranean.
Compared to summer, Europe's boarders have gotten even more difficult to cross due to the EU member states' isolationist policies. More and more refugees are forced to remain in Greece. As the country is in deep recession, even the most basic services such as shelter – not to mention training opportunities or ways to occupy oneself – are scarce or nonexistent in Greece.
Given these grim realities, Bag Mohajer tries to offer refugees a space where they can engage in creative, non-hierarchical and collaborative work. Here, refugees don't just make bags, but they also meet people, exchange ideas and get their mind off things for a while in a situation that continues to remain difficult and oftentimes depressing.
In order to continue to offer this space, Bag Mohajer needs your support!
After having equipped the space, Bag Mohaer needs financial assistance in order to cover the rent for 2016, until it can run sustainably starting 2017. The total rent is 2,400 EUR (12x 200 EUR). This means we would need 20 donors for a year for only 10 EUR per month each! You ca support us through our donations account (see below) or through our Betterplace campaign. Bag Mohajer is grateful for any support!
Once again, we would like to thank each and every single one of our supporters. This entire endeavor would not have been possible without you!
We wish you all the best and a happy new year,
Your Bag Mohajer team.